Managing From The Inside Out
This management book authored by Bold New Directions co-founder Jim Hornickel, and edited by Suzanne Guthrie, is designed for managers and supervisors. This unique management guide is full of 16 insights for "Managing from the Inside Out." Deepen your knowledge, self-awareness and effectiveness by using these transformational methods to establish stronger & more effective relationships with staff.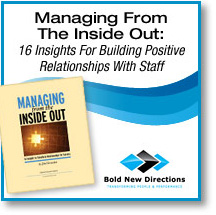 Managing From The Inside Out -16 Insights For Building Positive Relationships With Staff
A thoughtful guide to creating productive relationships with staff, teams & peers.
Electronic Book: $14.95
Paper Book: $14.95 + shipping
Order Here
---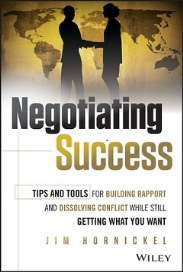 Negotiating Success – Tips & Tools For Building Rapport & Dissolving Conflict While Still Getting What You Want
By Jim Hornickel, Co-Founder of Bold New Directions. A very readable hardcover guide to positive negotiations at work or at home. Learn to improve relationships, dissolve conflict and create great outcomes in your next negotiation.